Sono una blogger smemorata!
I'm such an absent-minded blogger!
Ho dimenticato anche di dirvi che la mia cara amica
Eva di Farewell
mi ha insignita di un premio dolcissimo che dice:
"I love your blog"
. Grazie! Il premio prevede che risponda a otto domande e che a mia volta nomini altre bloggers... e, dato che ho dimenticato di mostrarvi alcuni outfits recenti, ho pensato di intervallare questo post con un paio di quelle foto.
I also forgot to tell you that my dear friend Eva from Farewell gave me a sweet award saying: "I love your blog". Thanx! Now I have to answer to eight questions and since I forgot to show you some recent outfits, I'll show you some of those pics too.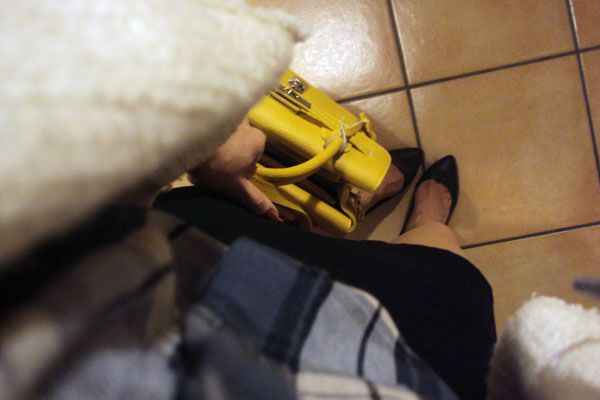 I was wearing: ZARA Blazer and Pumps / MANGO Shirt / H&M Skirt / PARENTESI Bag
1. Rivista di moda preferita? Elle e Marie Claire a fasi alterne
2. Cantante preferito? Ho i miei momenti... ultimamente mi piace ascoltare Agnes Obel
3. Youtube guru preferita? Non ne seguo nessuna
4. Prodotto di make-up preferito? Fondotinta e mascara a pari merito. Sono indispensabili!
5. Dove ti piacerebbe vivere? Adoro Parigi ma la mia città non la cambierei con nessuna al mondo
7. Quante paia di scarpe possiedi? Mai abbastanza ;)
8. Colore preferito? Il bianco
1. Favourite magazine? Elle Italia and Marie Claire Italia every other day
2. Favourite singer? It depends... lately I really like listening to Agnes Obel
3. Youtube guru? I don't have one
4. Favourite make-up product? Foundation and mascara. They're essential!
5. Where would you like to live? I love Paris but I won't change my town for anyone else
7. How many shoes do you own? Never enough ;)
8. Favourite colour? White
I was wearing: MANGO Jacket / H&M Shirt and Glasses / BERSHKA Jeans / ZARA Bag / GEORGIA ROSE Shoes
Ho deciso di "nominare" alcune blogger italiane che leggo sempre con molto piacere, ci tengo a farvele conoscere perché non si tratta dei soliti blog di outfits e sono scritti da ragazze davvero brillanti. Non vi deluderanno!
Eccole qua:
Infine vi segnalo una mia carissima amica e food-blogger, le sue ricette sono sempre facili e veloci (e mai deludenti):