Dopo i miei due post sulla settimana della moda di New York (li trovate qui e qui), eccoci giunti alle proposte da Londra per il prossimo autunno-inverno.
Devo ammettere che non impazzisco per la fashion week londinese, la guardo ogni anno svogliatamente e non trovo molti spunti per arricchire il mio stile personale. Anche in questa stagione sono state poche le sfilate che mi hanno fatto battere il cuore… ma scegliere un singolo look da queste otto sfilate è stato davvero difficile perché le collezioni erano da capogiro (Burberry su tutte!).
Date un'occhiata alla mia selezione e, come al solito, ditemi che ne pensate!
I must confess that I don't love this fashion week so much and even this year I didn't find many collections to be die for… but some of them were really great and it was difficult to choose only one look for each of them.
Take a look at my selection and let me know what you think about!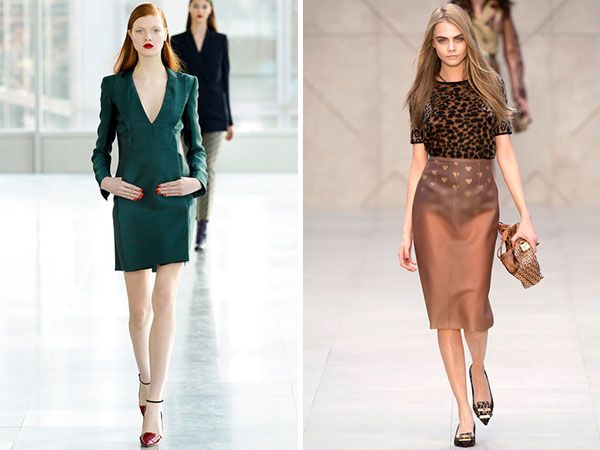 ANTONIO BERARDI
I like: l'abito origami di un fantastico punto di verde, le scarpe in vernice a punta, il make-up coordinato.
I like: the origami dress of an amazing red, the patent pumps, the matchy make-up.
I like: il maculato toujours en vogue, l'eleganza del color cammello, la stampa a cuoricini per giocare a interpretare Lolita.
I like: the leopard print toujours en vogue, the elegance of camel, the hearts pattern to look like a modern Lolita.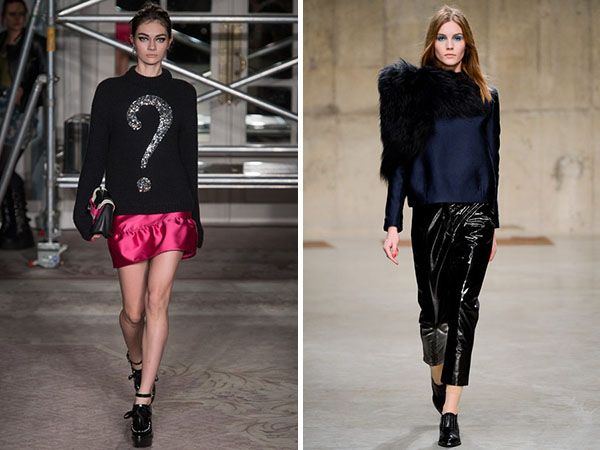 MOSCHINO CHEAP & CHIC
I like: il maglione ironico, la forza del rosa shocking, il make-up grafico e i capelli legati.
I like: the ironic sweater, the strenght of the bright pink, the graphic make-up and the hairstyle.
I like: il nero e blu, la pelle ultralucida, l'inserto furry, il make-up romantico a contrasto.
I like: the black matched with blue, the shiny leather, the fur, the romantic make-up in contrast.
MULBERRY
I like: il maxi maglione caldo, la stampa check, i guanti in pelle e la borsetta lady-like.
I like: the oversized sweater, the check pattern, the leather gloves, the lady-like bag.
I like: il camoscio, il marrone caldo abbinato al nero, la borsa bauletto, gli occhiali con le lenti bicolore.
I like: the suede fabric, the warm brown matched with black, the bag, the sunglasses with bi-color lenses.
TEMPERLEY LONDON
I like: l'oro barocco, i decori astratti, le pumps di vernice a punta.
I like: the golden baroque, the abstract pattern, the pointy toe pumps.
I like: il velluto, i ricami a fior di pelle che sembrano "aprirsi" di tanto in tanto.
I like: the velvet fabric, the embroidery.
Appuntamento al prossimo post con le sfilate milanesi!
Runways from Milan in the next post!